Cleft Lip & Palate Repair
Online Dental Education Library
Our team of dental specialists and staff strive to improve the overall health of our patients by focusing on preventing, diagnosing and treating conditions associated with your teeth and gums. Please use our dental library to learn more about dental problems and treatments available. If you have questions or need to schedule an appointment, contact us.
Preventive Measures
Preventive dentistry is the first component in a total treatment plan.
Our preventive care plan begins with a review of your medical history, and other important components, such as:
Regular Check-ups every 3, 4, 6 months
Flouride treatments and sealants Evaluation of existing oral conditions Early intervention to reduce the indidence of dental and oral diseases.
Dentistry Doctors and hygienists help patients understand exactly what their oral health issues are, and what might happen if suggested treatment plans are not followed. Children are taught proper brushing and flossing techniques by our pediatric staff as the very first steps in a lifetime of dental health. We also encourage patients who smoke to quit, providing advice and support as they work to give up this difficult habit.
As part of a preventive plan, we also perform:
Complete tooth and gum examination
Interpretation of dental x-rays
Oral cancer screening
Blood pressure screening
Evaluation of jaw joint problems
And, should your care involve more than preventive measures,
our dental specialists are here to provide you the optimum in patient care you need.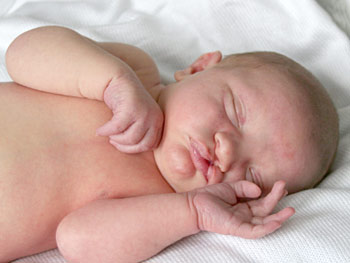 Cleft lip and cleft palate are among the most common birth defects, estimated to affect around one in 700-800 babies born in North America. Both problems result from the incomplete formation of anatomical structures (the lips and the palate, or "roof of the mouth") which develop during early pregnancy. These conditions may occur separately or together, and they can have a wide variation in severity. With proper treatment, however, in most cases the child has an excellent chance of leading a healthy, normal life.
Besides the noticeable irregularity in appearance, a cleft lip or palate can cause difficulties with feeding and speech. Both conditions are also associated with ear infections, hearing loss and dental problems. To fully address these problems, a child may require several surgical procedures, performed at different times. That's why a team approach is often used to treat this complex condition. Members of the medical team may include an oral surgeon, a pediatric dentist, an orthodontist, a plastic surgeon, and other specialists.
In general, the first goal of treatment is to repair or "close" the gap in the lip and/or palate as soon as it is practical for the child — as early as 2 to 9 months of age. Follow-up treatment may be needed to restore the appropriate form and function of the lips, teeth, and jaws (for proper speech, eating, etc) and to correct hearing problems. These procedures may include plastic surgery, orthodontics, orthognathic (jaw) surgery and speech therapy.
Surgical Treatment for Cleft Lip or Palate
Cleft lip or palate surgery is usually performed in a hospital setting, and may be done when an infant is 6 to 12 weeks old. Intravenous sedation or general anesthesia is used, so your child won't experience any pain. In cleft lip surgery, an incision is typically made on each side of the cleft. This creates several "flaps" of tissue, which are then sutured (stitched) together to close the gap. Suture lines are generally planned to follow the facial contours, so that the surgical scar will be as unobtrusive as possible.
Cleft palate treatment involves rebuilding the roof of the mouth, including soft tissue, muscle and bone. The initial surgery is often performed between the ages of 6 and 18 months. Like cleft lip surgery, it relies on specialized "flap" techniques to reposition soft tissues and close the gap. Before or after surgery, your child may need to wear a special appliance such as an obdurator (artificial palate) or a nasal alveolar molding device (NAM), a type of retainer.
Follow-Up Treatment
Depending on how complex the child's condition is, additional procedures may be required after the initial treatment to fully correct any defects. A child's treatment plan will often include pediatric dental examinations beginning around age one. Bone grafts to repair the hard palate may be recommended at age 8-11 years, when the cuspid teeth are developing. To correct problems with the alignment of teeth, orthodontic care may be needed beginning around age 12. In some situations, orthognathic surgery is recommended to address more severe jaw problems.
Handling a child's cleft lip or palate can be a challenge for caregivers and family members — but it's important to keep in mind that this relatively common birth defect can be successfully treated. Many who have this condition have gone on to become well-known performers, politicians, sports stars… as well as moms and dads, friends and neighbors.
Related Articles